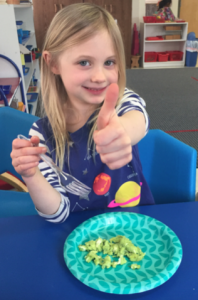 We have had quite a Seuss-tastic week with the celebration of Dr. Seuss' birthday! We had 1 to 2 parent readers each day who came to share a Seuss classic with the children. Additionally, we had works on the shelves to extend the theme of the week. There was an "at" word family language work, a one fish, two fish, goldfish addition counting work choice, and Mrs. Bateman created some beautiful Truffula trees with t
he students!
The children also made green eggs after reading the classic Green Eggs and Ham! We made the eggs green by adding a spinach and milk mixture to the whisked eggs! We also used this activity as an opportunity to discuss the conversion of liquid to solid when the eggs cooked on the griddle. Most of the children tried them, but we all experienced what green eggs look like!
This week in the culture area of the classroom the "parts of an egg", "life cycle of a chick" and "parts of a bird" works became available on the shelf. The students started receiving these lessons in preparation for the chick eggs which will arrive when we return from spring break! This is a very exciting time of year at CHE!
Some of the Dr. Seuss books we read this week at CHE:
Great Day for Up!

Horton Hears a Who

The Cat in the Hat

The Cat in the Hat Comes Back

One Fish, Two Fish, Red Fish, Blue Fish

Have I Ever Told You How Lucky You Are?

Dr. Seuss' ABCs

The Foot Book

Theres a Wocket in My Pocket

Green Eggs and Ham

Oh the Places You'll Go

The Lorax,

There's No Place Like Space

Hop on Pop!